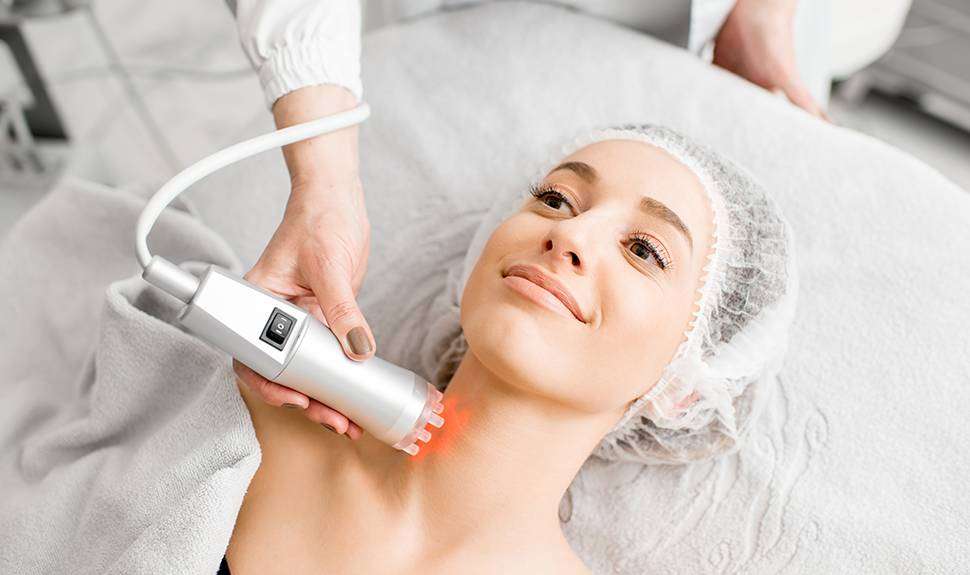 Laser Treatments by Omnicare – Laser Clinics in Dubai
Omnicare is one of the well-known Laser Clinics in Dubai-UAE; we provide a wide variety of laser treatments. Whether it's laser hair removal in Dubai, laser scar removal, fractional laser treatment, or laser tattoo removal, our clinic is a hub of cutting-edge aesthetics technology staffed by certified experts. Our goal is to provide a stress-free, pleasant, and pain-free surgical experience for all of our clients, and we take great pride in the results we achieve in the field of skin and cosmetics. We try to make our customers feel like they're at home, and we go over the details of the treatment with them ahead of time so that nothing goes wrong because of carelessness.
Skin Resurfacing & Fractional Laser Treatment Dubai
Modern skin resurfacing methods like fractional laser treatment in Dubai can help you look and feel younger. To achieve this, a fractional laser is used to kill damaged skin cells and encourage the growth of new ones. The therapy also stimulates the production of elastin and collagen in the skin's deeper layers, which are essential for the skin's health and elasticity. This method can be used to treat wrinkles, blemishes, acne scars, and hyperpigmentation. The result is clearer, more elastic skin that looks younger.
What is the purpose of fractional laser treatment?
As we age, collagen and elastin production decrease, which causes our skin to become less elastic. This explains why wrinkles, creases, and fine lines become more common as we age. Most people can see them around their eyes, nose, and lips. If you want to keep your lovely skin as you get older, fractional laser skin resurfacing is a proven method of doing so.
Acne is another frequent reason for fractional laser treatment and is treated by many Laser Clinics in Dubai. Hyperpigmentation, scarring, and other visible signs of acne often persist for a long time after the outbreak itself has cleared up. As a result, even after the acne has been treated, those who suffer from it still have to deal with the pigmentation of their skin and the scarring it leaves behind. In such situations, fractional laser skin resurfacing therapy provides a simple answer by rejuvenating the skin to make it appear clearer, fresher, and more aesthetically pleasing.
You can also use fractional laser treatment to get rid of sun damage from your skin. Exposure to sunlight can cause skin problems like dark patches, a coarser texture, and uneven pigmentation. While it's true that sun exposure causes aging, there's no need to fret about it now that there's an easy and effective remedy. Treatment with a fractional laser can eliminate the visible signs of photoaging by removing the top layer of skin cells and replacing them with a new layer, leaving you with smooth, clean skin.
Benefits of Fractional Laser Treatment
Treatments performed with a fraxel laser are common in Dubai because they provide excellent results with minimal risk. The process also takes little time and produces very noticeable results. Among the many benefits of fractional laser treatment is its adaptability to the unique condition and needs of each patient's skin. The following are some of the advantages of the procedure:
Improved skin texture and firmness
Even skin color
Improved skin tone and brightness
Reduces the appearance of creases, folds, and wrinkles.
Significant reduction of acne scars
Aids in the repair of sun-damaged skin.
Who can benefit from fractional laser treatments?
People who have acne scars, visible pores, or wrinkles choose fractional laser treatment since it targets only the damaged areas of the skin. You shouldn't go through with the operation if you have any acne on your face that hasn't been addressed first. People who have wounds, scars, or infections on their faces are also not eligible for laser treatment. Keep in mind that if you have a pre-existing medical condition or are taking medication for a chronic illness, we highly recommend you to consult your doctor before deciding to try this treatment.
Fractional laser skin resurfacing has been shown to significantly enhance the texture and look of the skin, transforming it from rough, scarred, and discolored to smooth, clear, and even. However, these outcomes require patience and time for the skin to recover from the treatment. You may notice improvements after the healing process is complete. When done properly by a renowned Laser Clinics in Dubai, the technique produces desirable outcomes that boost one's self-esteem.
Receive the best fractional laser treatment at our laser clinics in Dubai
The health and safety of our patients are always our top priorities at Omnicare. We take great satisfaction in providing our clients with a secure and reassuring environment where they can focus on getting the best possible outcomes without worrying about any negative consequences. Here at our Laser Clinics in Dubai, we have a team of skilled aestheticians who are trained in the use of fractional lasers and have the knowledge and experience to perform the process safely and with the least amount of discomfort to our patients as possible. Right from your initial consultation, our highly trained staff will ensure that you are treated with the utmost care and respect, allowing you to leave feeling like your most radiant self.